On the occasion of DMA's 62 Annual Delhi State Medical Conference (MEDICON 2021) , Delhi Medical Association (DMA) honored the Union Health and Family Welfare Minister Dr. Harsh Vardhan for Outstanding Service & Exemplary Work during COVID-19 Pandemic.
"It is a proud privilege and honour for me to be present here at MEDICON 2021 and receiving this award. I have several cherished memories of my time in the prestigious Delhi Medical Association (DMA), which has a rich history of some of the most esteemed medical professionals, not only in India but anywhere in the world." said Dr. Harsh Vardhan
"COVID-19 Pandemic gave us the opportunity that all of us come together and put India before ourselves. Healthcare Workers (HCWs) & Frontline Workers, not just in this room, but across India, rose to the occasion and sacrificed not only their time with family, but also their own mental, physical and emotional health for this beloved nation. I want to thank you, your colleagues, your friends & family, and everyone else who gave you the strength and encouragement to serve our motherland during the time it needed us the most." he added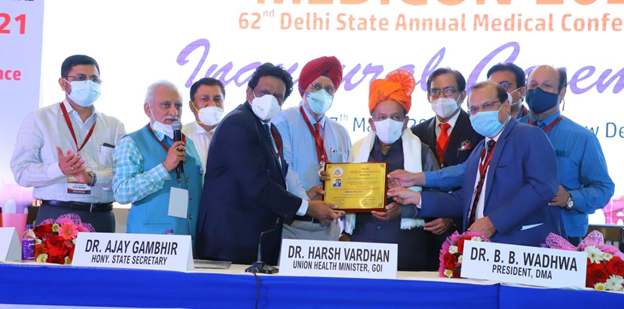 .