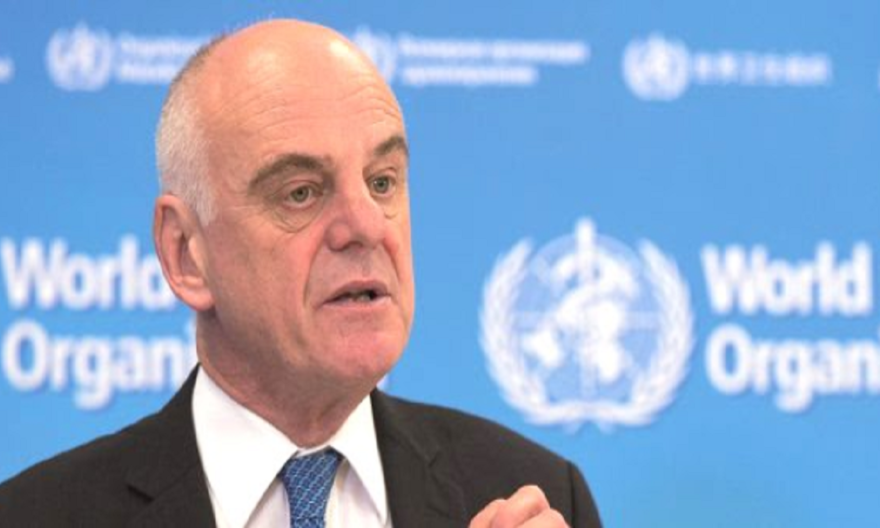 WHO's special envoy for Covid-19 Dr David Nabarro says that Be prepared for Covid to be around for foreseeable future 'It hasn't gone anywhere and it's now multiplying,' he tells The Daily Guardian in an interview, adding that no one knows how long it will take for a vaccine to be developed.
In an exclusive Interview with The Medically Speaking, Dr David Nabarro, who is a special envoy to the World Health Organization (WHO) for Covid-19, said that the infection should be considered a constant threat to humanity. "It hasn't gone anywhere and it's now multiplying. We have to live with it. I do not know how long it will take for a vaccine to be developed and when it will be accessible to everyone, everywhere," said Dr Nabarro.
Covid-19 has infected more than 32,510,655 people and killed over 989,287 people worldwide. "Today, it is really a struggle to make sense of this virus causing Covid-19 and the extent to which it has spread. Our starting point is that the world is going to beat the virus, but the world is also going to learn that the virus is a constant threat," said Dr Nabarro.
Can world beat the Covid-19 pandemic anytime soon?
The virus multiplying and spreading from one person to another can only be stopped or controlled by keeping in mind a few important points. "This virus multiplies by jumping from person to person. But if people are not close to each other, we can stop the virus from actually moving from one person to the other. And then, when the virus is moving between people, it's possible to stop it from doing so, to interrupt transmission. But that is isolating people from each other, and that's the secret to getting ahead of this virus — it is the only defence. And we have to do that because this virus can kill, it can kill the people it infects," he warned. "So, we need to keep ahead of it by stopping it from moving from person to person, with physical distancing, face protection by using masks, maintaining the hygiene of our hands when we cough — and through the practice of staying away from others," he added.
Do you think it's the second wave of the pandemic?
 Some scientists and doctors are saying that the world is already going through the second stage of the Covid pandemic. On that matter, Dr Nabarro said, "This virus hasn't gone anywhere at all. It is spreading through small outbreaks, which are then getting bigger. It's happening continuously. In some places, the movements are slow because they have very good defences and those defences are being implemented quickly. But in some places, where, perhaps, it's been hard to defend, the virus is quite widespread. So, I am not talking about 'waves', I am talking about resurgences of the disease, in the form of spikes or surges, and then those turning into outbreaks.
What precautions people and front line health workers should take to protect themselves from Covid-19?
The precautions we need to take to stay Covid-19-free relate to what we do in terms of physical distancing, face protection, maintaining hygiene, isolating when we are sick and protecting others who are at risk," said Dr Nabarro, adding that the people at a higher risk are healthcare workers. The contagious coronavirus has affected healthcare workers the most, with thousands of them having died across the world till date. "The people who work in healthcare, nurses and doctors, attendants and people who provide health services: we have to give them special attention. They have high death rates, with many thousands of health workers dying in the last few months," Dr Nabarro stated.
What major health challenges Covid-19 patients are facing ?
 Covid is also causing lots of problems. We need to recognise that it causes health challenges, makes people sick, and some of them very sick, but it is also leading to all sorts of other challenges. There are unemployment systems in place, a system protecting people who are poor. You have to recognize that poor people get hit the worst, and if their movement is restricted, the poor suffer the most. So, Covid is also revealing some of the inequities in our society, and we must support poor people first.
When will world get Covid-19 Vaccine ?
We don't know whether the vaccine we have works well or whether we will have a vaccine which is safe. But we know we need to wait for sometime before the vaccine is widely available." So, what can we do until a safe and effective vaccine is out? "All you can do is learn to live with the threat of Covid, and at the same time, try to find new ways of diagnosing it, so we can test more easily. We will try to find out the vaccine, but don't wait for one particular thing to appear, especially since we have no certainty that it will come. Try not to put dates on when we will have vaccines. If you do that, you create false expectations," advised Dr Nabarro.
How long will this virus remain?
This virus is a coronavirus, and generally, a coronavirus is quite stable. There is a lot of evidence that this virus stays pretty consistent. But it hurts people and kills people, and I think we need to be prepared for this virus to be around for the foreseeable future and become another issue in our ecosystem which we have to manage."