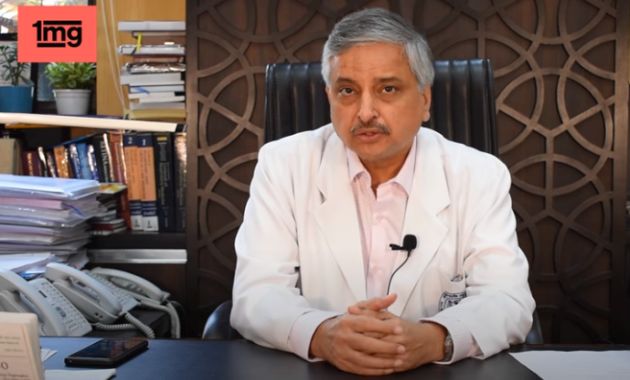 During festival season and winters its important for people to take proper precautions because little negligence can lead to an increase in Covid-19 cases. These are some of the observations that AIIMS Director Dr. Randeep Guleria made while speaking exclusively to Medically Speaking.
Q: What precautions should be taken during the coming festival season? How festival season can lead to rise in Covid-19 cases?
A: The ten days of data shows that the curve is flattening. We were very worried 2-3 weeks back about crossing one lakh cases per day on a regular basis. But that did not happen and the Covid cases have now come down from more than 90,000 cases per day. This trend has to be sustained for the next two weeks. We should continue to see that the trend doesn't change. With the festive season round the corner, we have to be careful and not crowd markets and religious places. We should limit these activities and have very limited celebrations, otherwise cases will increase. These events can sometimes lead to what we call super-spread. One person may spread the infection in crowded areas like a function like this where people gather in a large number and then they can spread it to others and that can lead to spike in cases. So, we have to prevent that from happening.
Q: Do you think in winters viral infections tend to increase due to which Covid-19 cases can also increase more rapidly?
A: In winters, viral infections tend to increase especially because people tend to stay more indoors and spread the infection inside a closed environment. We have to make sure that we continue to have proper precaution when we are indoors, like in terms of cross-ventilation and physical distancing. If we continue to take these precautions, then we can say that we have crossed the peak and gradually the cases will come down. If that happens, then we will see a downward trend till December.
Q: What kind of precautions should be taken during winter?
A: During the day time if people can sit outside, try and spend more time outdoors as compared to indoor. If possible, keep good crossventilation, avoid crowded indoor functions, try to maintain physical distance and wear a mask. Q: When do you think a vaccine will come? How far have the trials reached? A: All three vaccines haven't shown any adverse effects and the safety data is very good. Now we are waiting to see what their efficacy is, how effective are these vaccines. If we find that efficacy is good then hopefully by the end of this year or in the beginning, we will get the vaccine. The challenge will be about mass production of so many million doses and distribution to different parts of the country to all high-risk groups.
Q: How air pollution is linked to increase Covid-19 infection?
A: This year we have to be very careful on that front. We need to take aggressive steps to decrease the poor air quality that we have every year during winter month. This is because we already are fighting with the pandemic and our health systems are already strained and suddenly the cases increase because of air pollution it will cause more problems. Also, there is some data that suggests that the chance of the spread of the virus is more when pollution goes up, pollutant particles may also carry the virus and may allow the virus to stay for a longer duration of time. Pollution may also lead to aggravation of coronavirus and it may also lead to respiratory and heart diseases. So, we should be very aggressive this year in terms of not allowing very high levels of air pollution.
Q: What should asthmatic patients do to protect themselves ?
A: The asthmatic patients should take inhalers properly. They must also take influenza vaccines so that they don't contract influenza and they should regularly wear the masks and maintain physical distance. Both asthmatic and bronchitis patients need to be very careful because they can have both Covid-19 and co-infection that can cause more problems.