Article by Dr. Aruna Kalra – Senior Gynaecologist and Obstetrician at CK Birla Hospital, Gurugram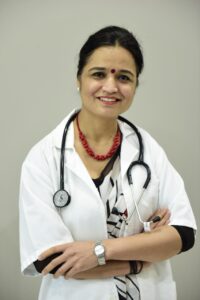 Not all pregnancies go so smoothly. Given the current pandemic situation and lifestyle changes, a number of women are having high-risk pregnancies. If you are going through a high-pregnancy, you and your little one can be at an increased health risk before, during or after delivery. Special care and regular monitoring throughout the pregnancy is very important.
Sometimes, a high-risk pregnancy can be a result of a pre-existing health condition before pregnancy. In other cases, a medical condition may occur during your pregnancy period that makes your pregnancy highly risky. Here are some risk factors associated with a high-risk pregnancy:
Late Pregnancy:Women who choose to get pregnant in her late 30s are at an increased risk of high-risk pregnancy.
Lifestyle choices:Smoking cigarettes, drinking alcohol and using illegal drugs can make your pregnancy highly risky.
Pre-existing maternal health problems:High blood pressure, diabetes, epilepsy, thyroid disease, obesity, blood or heart disorders, asthma, infections, etc.  can increase the risks associated with pregnancy.
Other Complications:Some complications develop during pregnancy including abnormal placenta position or low foetal growth, etc. These conditions can make your pregnancy risky.
Multiple pregnancies: APregnancy is at high-risk in case of twins or higher order multiples.
Pregnancy history:A history of pregnancy-related hypertension disorders, such as preeclampsia, can increase the risks of having a high-risk pregnancy. If you had a premature-birth delivery in your previous pregnancy or if you've had multiple premature births, the there is an increased risk of a premature delivery in your current pregnancy also.
Although high-risk pregnancy causes a lot of stress and anxiety, if taken proper precautions, you can have a healthy outcome despite the high risks involved. Here are five precautions you should follow to have a healthy baby:
Regular check-ups: If you are having a high-risk pregnancy, special medical care and regular monitoring is very essential. T is important to be in regular touch with your healthcare provider. Go for routine check-ups. Observe the changes in your body and contact your doctor as soon as you feel something not right is happening inside you or if you are not feeling well or comfortable. Be well aware and better prepared.
Trust your doctor: Trusting your doctor is the key to overcome a high-risk pregnancy easily. Have faith in your healthcare provider. They want the best for you and will give you the best advices and suggestions. Listening to other people, reading on the internet, believing others' stories would not only give you stress and anxiety but also lower your self-confidence. This can make things even worse for your and your baby's health. Stop confusing yourself by listening to others or by searching anything online. If you have any doubts or questions, ask your doctor and never take any step without taking her permission.
Strict control: To ensure a healthy lifestyle and given the fact that you are going through a high-risk pregnancy, you need to follow a healthy and balanced diet, strictly. Cravings are natural during your pregnancy period but be moderate while fulfilling them. Take small portions and limit the intake of fat-filled foods. Junk food should be completely avoided. If you are feeling like eating anything junk, make a healthier version of it at home and avoid eating it outside. If you are suffering from gestational diabetes, you will need to avoid sugar totally. If you facing hypertension i.e. preeclampsia, then you should limit your salt intake. Hence, it is always better to follow your diet strictly to ensure a healthy delivery.
Exercise Routine: Exercise helps your body to stay and fit active, physically as well as mentally. But if you are going through a high-risk pregnancy, it is advised not to do complex exercises or yoga or antenatal exercises. Same is the case if you are suffering from a low-lying placenta. Consult your doctor before starting an exercise regime and take advice from him/her about the exercises that you are allowed to perform.
Be well prepared before the delivery: You should be well prepared before the delivery date. Since you are suffering from a high-risk pregnancy, you may not know when you will have to go for a delivery so, it is advised to pack your hospital bag well in advance. Also be prepared with the things you may need after the delivery.