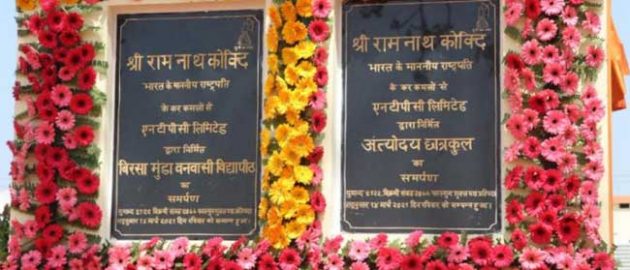 Sonbhadra: President Ram Nath Kovind inaugurated Vanvasi Kalyan Ashram located newly constructed hostel and school on Sunday March 14 in the presence of CM Yogi Adityanath.
Speaking on the occasion, the CM said that the President himself has already been very active for the development of the Vindhya region. The CM also announced setting up of a medical college by the government to provide better medical facilities to the people of Sonbhadra.
The CM said that it was a matter of great privilege that the President belonged to UP. The CM said that his arrival at the inauguration of the newly constructed hostel and school at Vanvasi Kalyan Ashram will bring a major change in the life of Vanvasi society.
CM said that India has paved the way for world humanity by the presenting two vaccines of Covid along with setting an example of an excellent Covid management to the world. During the tenure of PM Narendra Modi, the country has created a different identity on the global stage. Countries like Australia and US had complimented India for its Covid management.
The CM announced that the government will take care of their studies and other needs if they want to study further but for some reasons they are not admitted. The CM also said that the state government will soon make arrangements for the coaches for the shooting range here.