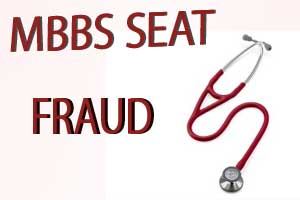 Lucknow: A senior doctor, a director of a medical colleges and 2 of his accomplices have been arrested for a scam of Rs. 15 crores on the pretext of securing MBBS admission of at least 26 lakh aspirants.
According to a media report, the Uttar Pradesh-based senior doctor conspired with two techies and allegedly hacked into the NEET database to secure the list of unsuccessful medical aspirants. The doctor approached the aspirants and promised them MBBS seats for a monetary price. He started blackmailing them when he failed to fulfil the promise and the victims started asking for refund.
It was revealed in the raids conducted by the Special Task Force (STF) Officials that the scam network was spread across Delhi, UP, Bihar, West Bengal, Andhra Pradesh, Maharashtra and Madhya Pradesh. During the raid, the officials secured an SUV, 30 mobile phone, 25 registers with details of money transactions, and documents related to admission in the MBBS/MD courses.
SSP, STF, Anil Singh Sisodiya informed that the whole scam came into light after the complaint of a Patna resident who was duped of Rs. 6 lakhs by one of the accused.