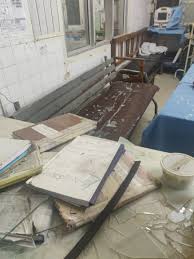 New Delhi: Delhi's Hindu Rao Hospital got vandalized by the family of a rikshaw-puller, who died in the hospital during treatment on Friday. Allegedly the kin also attacked doctors due to which the doctors sustained injury.
As per a report from PTI, the patient Sonu (34) was admitted to Hindu Rao Hospital on Friday around 10 pm and was found to have Cardiac Ailment probably due to ongoing Myocardial Infraction (heart attack). The patient collapsed in emergency and despite the best possible efforts, could not be saved.
Following this, the angry family members of the patient started shouting and falsely blaming the doctors for his unfortunate death and attacked them later on.
A senior police officer told PTI, "Information was received at the Sabzi Mandi police station, regarding a quarrel that had broken out at Bara Hindu Rao Hospital. After reaching the spot, it was found that one rickshaw-puller, Sonu (34), a resident of Kabir Basti, admitted in the hospital on Friday around 10 am, had died during the treatment, following which his family members have damaged the hospital property."
Now, the doctors at the North Delhi Municipal Corporation run-hospital are demanding institutional FIR in the matter. The RDA has lodged a complaint with the police, said Abhimanyu Sardana, President of Hindu Rao Hospital's RDA President.