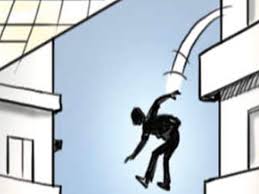 Kolkata based doctor (50) allegedly committed suicide by jumping off the 10th floor terrace of her apartment located in Bosepukur Road off the Kasba Connector, on Tuesday 11:30 p.m., despite the desperate attempts of the private guards to save her.
The victim has been identified as Joyita Ghosh, a schizophrenic patient and suffering from several comorbidity. She was living alone in the flat for six years after both her husband and 19-year-old son settled down in Malaysia. The son is now studying in Australia. The doctor had given up on her practice several years ago and was now dependent on her former tenant, neighbors and the local police station to get hospitalized whenever needed.
She had received treatment for a mental condition and had been struggling with her meals and livelihood. Her neighbor, Dr. Biswas, a specialist in a private hospital of EM Bypass , stated that despite calling his husband, he refused to come back and take care of the doctor. He informed that she would ring the bell at odd hours and seek food and money from them. In fact, during lock-down, she also disregarded strict rules which the residents had put in place, however they compromised due to her mental condition. Moreover, she kept on changing her maids constantly which was also a problem for few residents and they had written to Kasba police in charge informing that the victim needed help.
" No organization came forward to help her. We contacted her husband who refused to come over to the city and help her. Finally, about a week ago, her electricity was cut off by the power supply company over non-payment of fees. We kept knocking at doors. My 76-year-old mother even proposed that we fix up her meals through an agency but she refused. It is unfortunate that we could not save her," Dr. Biswas told TOI expressing grief over the demise.
He added, "No organization came forward to help her. We contacted her husband who refused to come over to the city and help her. Finally, about a week ago, her electricity was cut off by the power supply company over non-payment of fees. We kept knocking at doors. My 76-year-old mother even proposed that we fix up her meals through an agency but she refused. It is unfortunate that we could not save her."
DC (SSD) Rashid Munir Khan said, "She had been showing some behavioral peculiarities of late that alarmed the other residents. On Tuesday, around 11.15 am, she managed to climb the parapet on the terrace of the apartment. A resident saw her and began shouting to attract attention. Thus alerted, at least two apartment security personnel immediately reached the terrace to bring her down. By the time they managed to reach her, it was too late and she had jumped off the terrace."
"She fell on the open parking space on the western side of the complex, lying on her back. She was rushed to the CNMC Hospital in a trauma care ambulance after the Kasba police station was informed. She was declared dead there," Khan added. Police are still trying to find the reason behind her suicide and giving up on her medical practice. The local police earlier made arrangements to get her admitted at different hospitals for her treatment. An investigating office said, "Ghosh, being a doctor herself, used to rarely cooperate with the doctors treating her and would often intervene in her treatment procedures raising a din if her views were not listened to."