Bizarre demands in return of Vaccines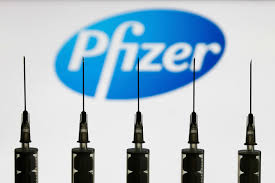 Amid the Covid crisis, when the world is in desperate need of the vaccine, US-based Pfizer becomes a bully and asks some governments to put up their sovereign assets like Military bases and embassy buildings as collateral for any future legal costs in return of the vaccine.
Government officials from Argentina and another Latin American country, which has signed a confidentiality agreement with Pfizer and so cannot be named, told the Bureau that Pfizer demanded additional indemnity against civil lawsuits citizens might file in relation to Pfizer's Covid-19 vaccine.
When the talks between the government of Argentina and the CEO of Argentina's Pfizer began in 2020, the latter refused to pay the compensation for any negligence it makes in future and asked the government to pay instead. After certain negotiations between the two, Argentina agreed to buy an international insurance for potential future cases against Pfizer. However, the company did not stop and in December 2020, it made a demand to the government to put its bank reserves, military bases and embassy buildings as collateral along with a fraud insurance, but the country did not agree this time.
While in Brazil, Pfizer demanded that the government create a guarantee fund and deposit money in a foreign bank account. On January 23, 2021 – Brazil's Health Ministry put out a statement citing excerpts from Pfizer's pre-contract clauses.
Pfizer made the following demands:
Brazil waives the sovereignty of its assets abroad in the favour of Pfizer.
Rules of the land be not applied to Pfizer.
Brazil takes into consideration a delay in delivery.
Pfizer is not penalized for delayed delivery.
In case of any side effects, Pfizer be exempted from all civil liabilities.
Pfizer's deal failed with Brazil also as the government called these clauses abusive.
Pfizer's German partner – BioNTech was given $445 million by the government of Germany. The US paid Pfizer 2 billion dollars as early as July 2020 for pre-orders. Pfizer is looking at making 15 billion dollars from vaccine sales this year, and is in talks with 100 countries and organizations. On January 22, Pfizer signed an agreement with Covax and committed 40 million doses to poor countries this year.
An excerpt in a press release by the company said, "At Pfizer, we believe that every person deserves to be seen, heard and cared for. That's why from the very beginning of our vaccine development program, Pfizer and BioNTech have been firmly committed to working toward equitable and affordable access of COVID-19 vaccines for people around the world."