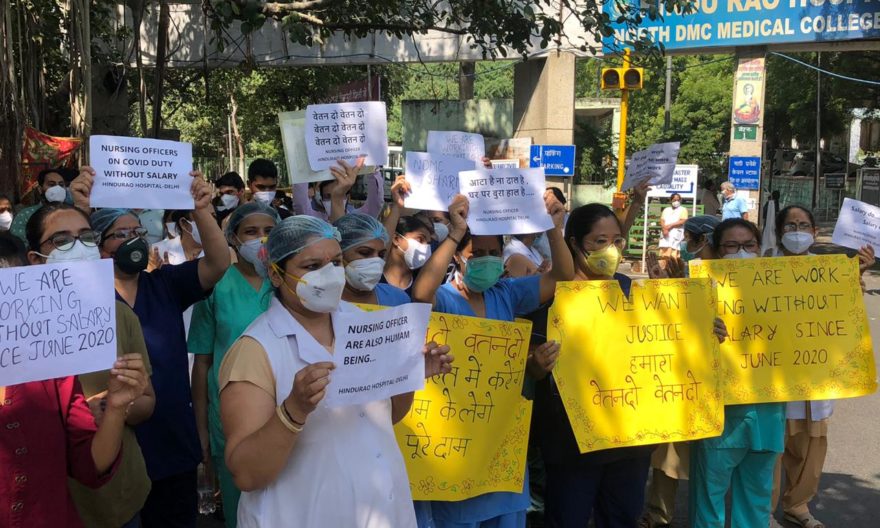 After FORDA, now Resident Doctors Association of AIIMS also come out in support of Hindu Rao hospital.AIIMS, RDA has also written a letter to the Chief Minister of Delhi on non-payment of salaries for 3 months.
The Letter written by AIIMS Resident Doctors Association to Chief Minister Arvind Kejriwal stated "We are writing this letter to you to bring your kind attention to the pathetic working condition of the doctors under which they are forced to work in Hindu Rao Hospital. It's COVID -19 designated hospital since the beginning of the pandemic and the health care workers are working day and night risking their own lives. It's a matter of disappointment that those warriors are even deprived of their basic salary and being forced to work under such extreme stressful times without any payment since last 3.5months."
In its statement the association has also said "We AIIMS, RDA, stand resolutely with our fellow colleagues in this regard and extend our full support for their fight. Whereby urge your prompt intervention in this regard."
On the other hand FORDA delegation along with RDA Representatives of Hindu Rao Hospital, today met MS of the Hindu Rao Hospital regarding on-going Protest due to non-payment of salaries for 3.5 months & to pursue the issue with higher authorities.
FORDA has also given a Letter to the MS of Hindu Rao Hospital on salary delay and difficulties Doctors and Front line health workers are facing.
The Letter written by FORDA stated "We intend to bring to your notice an issue pertaining to Resident doctors of your esteemed Institution. Being a COVID Hospital, doctors of the Hospital are risking their lives at the workplace in this epidemic, but are not being paid the necessary emoluments and it has become difficult for them to meet their daily expenditures and to support their families. These frontline warriors have not received their salaries from the last 3.5months which is totally demotivating them."