Hyderabad, July 1st, 2021: Apollo Hospitals, hosted a uniqueand colorful march past to commemorate the National Doctors' Day. The hospital staff from across departments took part in the march past and greeted the Doctors present on a podium, as they passed by, at Apollo Health City, Jubilee Hills, today.
The impressive celebrations were organized as a mark of reverence and to express immense gratitude to the Doctor community for their unparalleled commitment and dedication to patient care in the most trying of circumstances, prevailing due to COVID 19. The march past had all the pomp and gaiety associated with festivities. The security personnel led the march to the melodious and rhythmic tunes of Police band. The other marching contingents comprised of Bike ambulances, Critical care ambulances and staff from different departments, holding placards, banners, applauding the initiative of Doctors.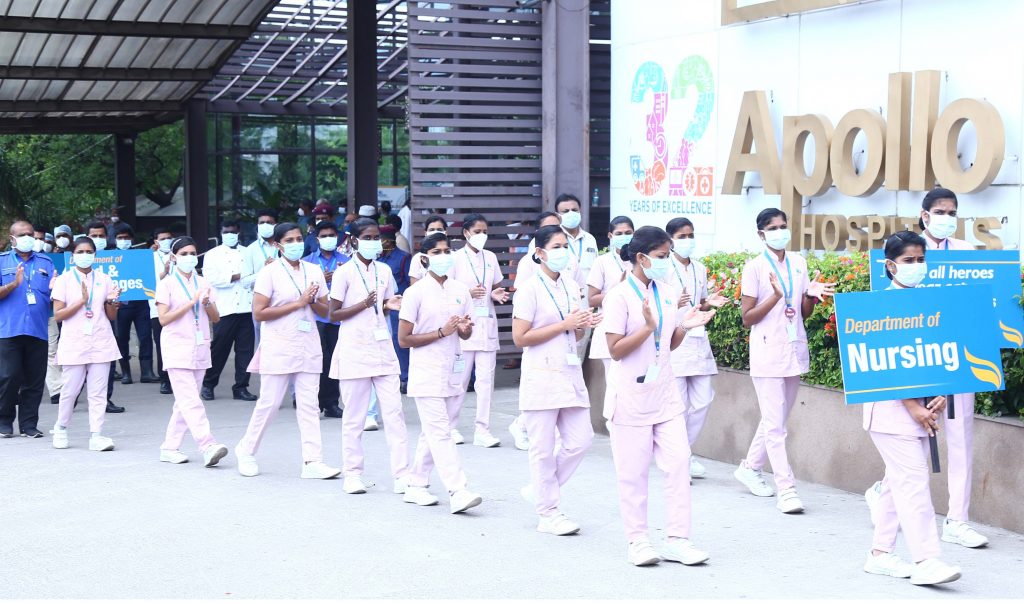 Speaking on the occasion Mr Y Subramanyam, Regional CEO, Apollo Hospitals, Hyderabad; said, only a Doctor is blessed with the magical powers to treat a life, bring health in our lives and be there with us when we have lost all the hopes and that's the reason Doctors are precious. But for patient's every day is a Doctors' day as during their moment of distress and trauma no one else can be their saviour.
Dr Ravinder Babu, Medical Superintendent, Apollo Hospitals, Jubilee Hills; said, when the pandemic struck last year, like everyone else the doctors too perceived enormous risk to themselves and their families, but the commitment to the patients is what kept them going. That dedication is what overweighed all other considerations, empowered them to bravely confront the disease despite personal risk and that made a difference to several lives. For every Doctor the prime concern is how to save his patient from distress and for that they go to any extent, even risking their lives.
Dr. P. Vijay Anand Reddy, Director, Apollo Cancer Institute, Apollo Hospitals, Hyderabad; said, as a Doctor the love and trust we win from the patients after successfully treating them merits above everything else. All of us in this profession strive for that moment of joy the patient expresses and that gives us the ultimate satisfaction.