NATCON 2022, the 97th National Annual Conference of the Indian Medical Association, was held from December 26 to 28 in Allahabad, Uttar Pradesh. At this conference, Dr. Venkatesh Karthikeyan from Salem (Tamil Nadu) was conferred with IMA National Award for the "Best Young Doctor" for his exemplary services towards the fraternity.
Dr. Venkatesh Karthikeyan is an MBBS Graduate from Velammal Medical College, Madurai. He is currently pursuing MD in Community and Family Medicine at AIIMS Patna. He has served the Indian Medical Association in various capacities, including the State President for Medical Studnets' Network, and is currently the State General Secretary of the IMA Junior Doctors' Network. He is widely recognized for his academic and research contributions towards the fraternity and health awareness generation amongst the general public.
He has earlier been bestowed with IMA National Award for Best Medical Resident(2021), National Award for Best Medical Student(2020), and IMA MSN National Chairman Appreciation Award(2019). The IMA National Award for Best Young Doctor is conferred this year during NATCON in Uttar Pradesh.
IMA National President Dr. Shahjanand Prasad gave the award in the presence of Dr.Ravi Wankhedkar (Treasurer, World Medical Association), Dr.J.A.Jayalal(General Secretary, Commonwealth Medical Association, London), IMA National President-Elect (2024) Dr Ashokan, IMA General Secretary Dr. Jayesh Lele, National President-Elect (2023) Dr. Sharad Aggarwal, National Vice President Dr.C.N.Raja, National Chairman of IMA JDN Dr. Sreejith N Kumar and National Chairman of IMA MSN Dr.Karthik Prabhu.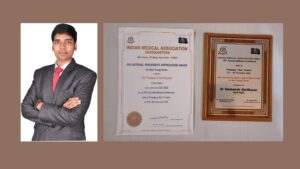 He expressed his sincere gratitude to IMA Tamilnadu State President-Elect Dr. K M Abul Hasan, Dr. Senthamil Pari (State President IMA TNSB), Dr. R Palaniswamy (Immediate Past President, IMA TNSB), Dr. NRTR Thiagarajan(State General Secretary, IMA TNSB), Dr. Alagavenkatesh (Treasurer), Dr.K.Prakasam (Former State President), Dr. Saralabai (IMA President, Salem), Dr. Manikandan Mohandoss (State President, IMA JDN TN) and his team Dr. Aravid Swamy, Dr. Prashanth.S, and Dr. Raghunandan.
Read more: Covovax vaccine will receive clearance for booster dose in 10 to 15 days: Adar Poonawalla
Follow Medically Speaking on Twitter Instagram Facebook