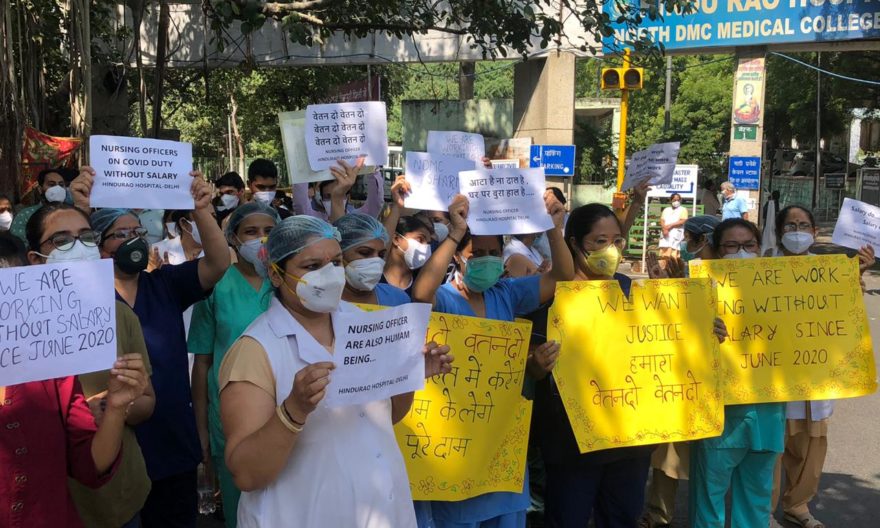 By Dr Narendra Saini
SARS-CoV-2,Covid 19 Update
Cases : 41,994,434 deaths : 1,142,744
US Cases 8,661,651 death
228381
India : Cases 7,761,312
death :117336
Brazil : cases 5,332,634 deaths : 155962 (worldometer)
Corona warriors not paid their dues
Every country keeps the morale of their soldiers high, especially during the war. Every Govt take care of their needs, take care of their health, and take care of their families. But today's soldiers in  Corona fight, even they are not getting even their salaries for the last 4 months. Not able to meet their basic needs, not able to pay rent, not able to pay the school fees of their children, not able to pay their EMI.In such situations, in what state of mind these warriors will be when handling this deadly virus, easy to understand. Kudos to these soldiers who are still fighting with great spirit in MCD hospitals. Their protest is taken as a political gimmick or asking for salary is called taking undue advantage of their rights by the politicians. We ask which politician is working without money. They are passing bills in the assembly to get their salaries and perk increased and are paid every month without delay. Unfortunately, medical associations, media and society in large are keeping silent. Just releasing a statement is not enough.
Together we have to take care of these Frontline warriors and this virus.
Awake,Arise and act
Teamwork is important for winning this Corona war and our rights too.
Dr Narendra Saini
Chairman Scientific
committee DMC
Chairman AMR committee IMA Hq
Past Sec Gen IMA
Director SAINI DIAGNOSTICS ICMR approved lab for RTPCR testing