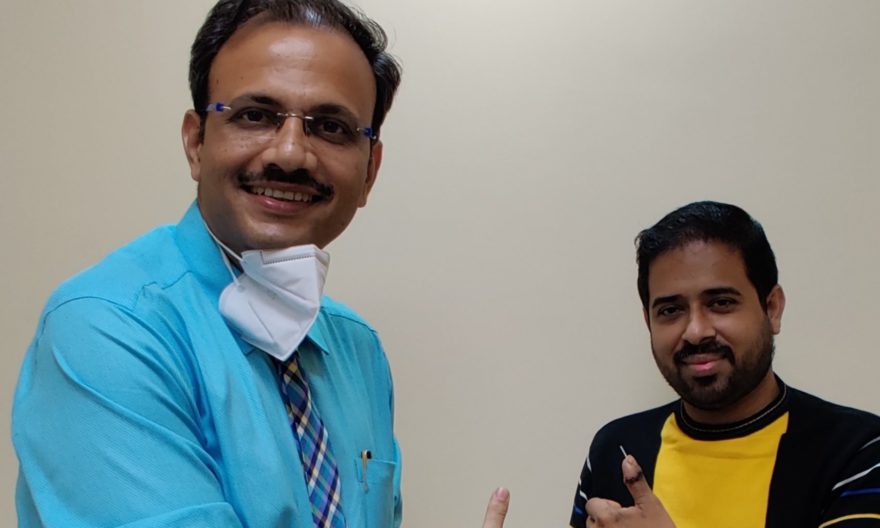 Mumbai – A 42-year-old man rushed into the hospital with half of his left thumb completely cut and separated. The patient got an injury while he was cleaning the chain of his motor-bike, during cleaning the motor-bike his thumb was accidentally got amputated. The team of doctors reattached his thumb by performing microvascular surgery and reattached the chopped-off portion of the patient's thumb.
"Rohan's case is not an isolated incident. We get several cases of youngsters or bike enthusiasts who come for finger crush injuries, total or near-total amputations owing to bike chain related accidents. If people manage to preserve the amputated part and reach the hospital on time, we can reconstruct the digits or re-attach the detached fingers with the help of microvascular surgery." said Dr. Nilesh G Satbhai, Head of Department – Plastic, Hand & Reconstructive Microsurgery and Transplant Surgery, Global Hospitals, Mumbai
"All the important structures were dissected, identified, and prepared on both the patient side and the amputated part. The bones were fixed using a stainless-steel wire. The blood vessels of the thumb (artery and veins) were then connected to each other to restore the blood circulation of the amputated part of the thumb. The blood vessels at this level are very tiny (often less than 1 mm in diameter). The threads (sutures) required to join these blood vessels are much thinner than human hair and are barely visible to naked eyes. Hence, such procedures can only be performed under the operating microscope. The nerves and tendons were then repaired. Reconstructive Microsurgery aims to restore the normal form and function of the body part to its maximum extent", Dr. Nilesh Satbhai added
The pateint name is Rohan Ajgaonkar he is a resident of Vile Parle, a banker by profession, is an adventure enthusiast. He is passionate about riding and he usually ensures himself, that his bike is well maintained. Cleaning and lubricating the chain of his bike had been a part of his regular vehicle maintenance routine.
"During the bi-monthly cleaning of my bike which I do myself, I had my bike's engine on. This resulted in the cleaning cloth getting stuck in the chain. As I tried to pull the cloth out my finger got trapped as well. I was stunned by the pain and sight of blood. However, on the ground, I saw the part of the thumb that had been cut off. A timely surgery performed by the hospital saved my thumb. I am thankful to the doctors who helped restore my quality of life this New Year. I advise bike lovers like me to be cautious while cleaning their vehicles or get it done from a professional," said Rohan Ajgaonkar pointing out the risks untrained hands take when cleaning their vehicles.
The patient was monitored closely over the next week to ensure that the replanted thumb remained viable. Having recovered without any complications he was discharged after 1 week.